OCT's Top 3 Cam Sites of 2016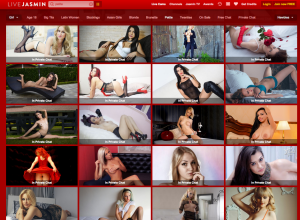 Number one is a no brainer. LiveJasmin.com (and Jasmin.com, though technically two sites, we'll consider them one). Not only does the Jasmin network take the cake, it takes it by a mile. Jasmin has long been the standard in the live cam industry, raking first on just about every list of cam sites worth consulting, and with good reason, and is far and away not only the most popular cam site, but also consistently ranks on Alexa as receiving more traffic than any other porn site on the internet. If that's not enough, the list of awards this site has won is longer than my….it's long. Including best live cam site for multiple years.
            Site: The website itself is beautiful. The stylish look of the site, as well as the high standards for the models' bedrooms are dripping with class and style, making for an enticing and professional atmosphere (something many cam sites lack). One huge bonus is that there are NO distracting ads plastered all over the site, like most cam sites.
            The search function on this site is incredible. You can sort by type (brunettes, teens, milfs, petite, etc.) and the live shows are sorted in a beautiful thumbnail gallery of professional photos. You can simply scroll through endless pictures until a girl catches your fancy, and you need only hover over the pic to get a live preview of the show. All of the models have professional photo galleries, and many of them even have video trailers, so you can ogle them even when they're not online.
            Girls: As far as the models, they are gorgeous, and when we say gorgeous, we mean GORGEOUS. Don't get us wrong, Jasmin, like any cam site, has its fair share of B, C, squadders, but there are more perfect 10's on Jasmin than any of the other sites. By far. Jasmin also has the largest number of models, with over 65,000. You read that right. 65,000!
            It's also obvious that this is where the pros go. The models take this seriously, and it is clear that Jasmin has some standards for the girls' behavior, so you won't see girls texting, leaving the camera to go get a snack, putting on makeup, or any of that nonsense you'll often see on the cheaper sites. They're also almost always wearing classy lingerie, teddies, or other sexy 'date night' attire. Until it comes off anyway.
             Cost: The only down side to LiveJasmin is the cost. Chatting with goddesses isn't cheap. Though you can chat with babes in lingerie all you want for free, you gotta pay to see the goods. The vast majority of the private shows run about $2/minute. The screens are HUGE (another rarity in the cam world), you can talk to the model via the chat box, or can even cam2cam for free.
            Overall, if you're looking for a cam site, and don't mind paying for it, there is simply nothing that even comes close to Jasmin.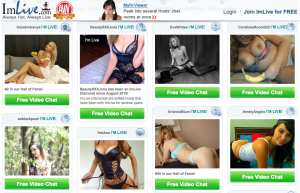 ImLive comes in at number two. ImLive has tons of hotties, a porn star section, and possibly the best search function of any cam site (even better than Jasmin's) allowing you to find EXACTLY the kind of girls you are looking to chat with. While not quite as top shelf as our number one choice, ImLive is a fantastic experience.
           The Site: The site design is nothing special, one might even say bland. But it's at least clean, easy to navigate, and ad free. The search function for ImLive is like a freakin FBI database. You can search by sexual orientation, hair color, age, race, on screen activity, price, body type, and tons of other options, so If you have a particular fetish, ImLive might be your best choice. ImLive also has killer customer service, and actually take into account complaints and suggestions, often incorporating unique features into the site based on members' feedback. One can complain submit complaints about live models to customer support for instance.
           The Girls: Beautiful. There are plenty of 8's 9's and 10's, and even a Porn Stars section where you can find a plethora of famous adult stars doing live shows on the regular. This is one thing that really sets ImLive apart from other sites.
            Price: You can chat with clothed babes fore free, but any hanky panky is gonna cost you. The prices range from $1 up to $5 per minute. Most are around $1-$2, and an occasional few think highly enough of themselves to charge five times that.
ImLive is a solid cam site with great, uniqeu features, decent prices, beautiful girls, and search options that put match.com to shame (not really, but you get the drift).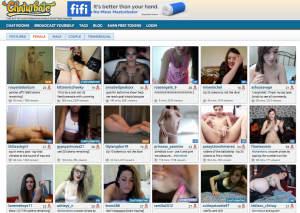 Chaturbate has made a big splash on the cam scene lately, and though it's not as competitive in some aspects, it lands at number 3 because it is absolutely free. In fact, one need not even register with an email to get unlimited access to cam shows. You can go to Chaturbate right now and instantly watch girls play with themselves, watch lesbians get it on, or even watch couples having sex, without so much as entering an email address or paying a dime. This is what makes Chaturbate our number three choice.
            Site: The site is pretty generic. If the nude cams and adult ads were removed, it would resemble any other generic chat site. On that note, the ads, while tacky, can be removed simply by registering a free account. The sorting options for chat rooms are pretty basic: Featured, Female, Male, Lesbian, Couple, Gay, and Trans. No further sorting options available. The standards are pretty lax for the performers attire, behavior, and rooms. You'll often find yourself in living rooms, messy bedrooms, and even dorm rooms.
          Girls: The girls can be surprisingly beautiful, and generally, there are at least a handful of 9's and 10's, with even the occasional porn star. Emily Grey has her own Chaturbate channel and has shows almost daily. One down side to Chaturbate is that there doesn't appear to be very strict standards for the models' behavior. Often times they'll take texting breaks, leave the room to get some water, or even snack on screen. This doesn't happen often, but often enough for the site's professionalism to suffer some.
            On the other hand, the casual atmosphere can be a very good thing for some. Most of the girls are very relaxed and at home, and usually very genuine. The less professional vibe can make you feel as if you're actually chilling in a girl's bedroom with her, as opposed to being given a lap dance by a pro. As laid back as many of the models are, they still get down to business, since they make money via tips, and not by the minute.
            Cost: You have access to live shows for free, but with limitations. You can't chat for free (though you need only have some money in your account to chat, it doesn't actually cost money). The girls generally do things for tips, and this is how they make their money (as opposed to charging by the minute. They will typically list various activities they will perform if certain tip "goals" are met (ie: x tokens to finger my ass). You can sit back and hope that the goals are met (as they almost always are) or you can speed things up by tipping them yourself.
            Some girls also host private shows, where you need only pay a cover charge, and you get access to all the escapades therein. Prices vary, but really, there's no limitation on what girls will do in the free shows, so unless you REALLY want to watch your favorite model finger herself, you're probably better of watching shows for free.
Overall, Chaturbate is a much more casual, amateurish cam site. That said, it's by far the best free cam site out there, and has enough hotties and live sex shows to justify paying for. If you're trying to cam on the cheap, Chaturbate is definitely the way to go.
Runners Up
This site is chock full of serious hotties. We were quite surprised. There is also an extensive search feature with which you can sort girls by fetish, body types, age, race, hair color, and many more options. The site layout is simple and easy to navigate. And once again, the girls are top notch. In fact, we were hesitant to place this at number four, because the models tend to be better than Chaturbate's, but the Streamate does cost money, and it's kind of the wild west when it comes to rates. Most girls will charge $1-$2, but other will crank it up to $7 or even $10 for a couple of the porn stars. Given the price, Streamate comes in at number four.
While a solid site, with an abundance of seriously hot models, and an impressive search feature, Cams.com failed to make the list for its somewhat expensive and overcomplicated pricing model. On top of the normal per minute fees for viewing private shows (which are much higher on average than the other sites) one must also pay a monthly membership fee. There are multiple memberships, the cheaper of which limit your options on the site, even setting spending limits. It's a fantastic site, don't get us wrong, but it's hard to justify spending that kind of coin, especially when there are sites that are just as good and better that cost less.